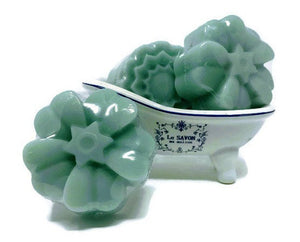 Wild Indigo Conditioner Bar
Chesil
Regular price $16.99 Sale
Wild Indigo detangling solid conditioner bar contains natural Japanese Indigo Extract, Babassau Oil and Argan Oil Solid that smooths, hydrates and strengthens hair. Japonica Extract visibly helps improve hair texture and elasticity. Wild Indigo gives hair a healthy-looking, youthful radiance and is also known for it's natural anti-septic properties which lessen dry, flaky, itchy scalp. Chemically Free. Wild indigo promotes silky yet manageable hair. Certified organic; Avocado Oil, Tacuma Butter, Babassau Oil, Shea Butter, Argan Oil all add much needed moisture and shine. If you are in the quest for a low-waste, easy shower hair routine, this solid conditioner bar is for you!
Conditioner bars are great, especially when it comes to travel. Solid conditioner bars don't leak all over your suitcase, averting travel disasters. Conditioner bars are also much more concentrated than bottle liquids, meaning they last longer, and you can customize their potency by adding exactly as much water as you want.
Use: Glide it through your hair and, massage in a downward motion and gently finger detangle hair. Gently rinse for soft and shiny hair.
Wild Indigo Extract, Japonica Extract, Rice Bran Wax, BTMS (derived from the natural plant oil Colza), Verisoft EQ 65, Panthenol B-65, Cetyl Alcohol, Avocado Oil, Tacuma Butter, Babassau Oil, Shea Butter, Argan Oil, Kaolin Clay, , Oat Protein, Honeyquat, Silk, Black Jasmine. Bergamot, Vetivert